Plant Taps Pacific Ocean as Source of Drinking Water
Desalination Plant Produces Drinking Water from Salt Water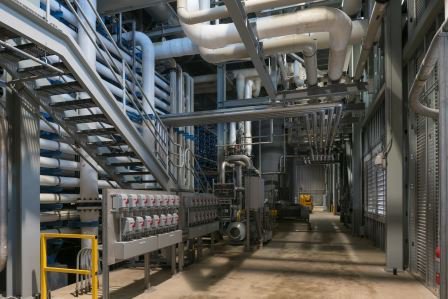 With its dedication in December 2015, the $1 billion Claude "Bud" Lewis Carlsbad Desalination Plant opened a spigot to the Pacific Ocean, creating a new, drought-proof source of drinking water for 3.1 million people in San Diego County, California.
As the largest ocean desalination plant in the nation and Western Hemisphere, the Carlsbad Plant is considered the future of water desalination in the U.S. by its proponents. Citing officials of the International Desalination Association, the Los Angeles Times reported, "San Diego is the epicenter of desalination and water reuse development in the U.S.A., and the undisputed birthplace of commercial reverse osmosis."
According to an article in The San Diego Union-Tribune, the plant represents the "mainstreaming" of seawater desalination in California. "About 15 other desalination projects have been proposed for the state's coastline, from the San Francisco Bay Area to Southern California," the Union-Tribunearticle observed.
Located adjacent to the NRG Energy's Encina Power Station in Carlsbad, the desalination plant uses the same water intake system used to draw cooling water from the ocean into the power plant. After the water is filtered for sediments, it is pumped through plastic-coated reverse osmosis membranes that remove more than 99 percent of the salt and other minerals.
"To produce 50 million gallons per day of fresh water, Carlsbad will draw in 100 million gallons of seawater," The Sacramento Bee noted. "The difference is returned to the ocean as discharge water, but with it salinity doubled."
By mixing the discharge water with cooling water from the Encina power plant, the discharge water will be only about 20 percent saltier than the ocean, according to The Bee.
Desalinated water is fluoridated and chlorinated in preparation for delivery to the San Diego County Water Authority, which has a 30-year Water Purchase Agreement with the plant's developer and owner, Poseidon Water. A private company, Poseidon Water specializes in developing reverse osmosis seawater desalination plants.
The Water Authority started exploring the potential for a desalination plant in the early 1990s. "This pioneering project is the result of more than 17 years of planning, permitting and construction," stated Poseidon Water Chief Executive Officer Carlos Riva in a news release. "It required teamwork between Poseidon Water, the Water Authority, our contractors, NRG Energy, and the cities of Carlsbad, Vista and San Marcos."
Coating consultant Denis Amyot, NACE Level 1, of TPC Consultants, Inc., recalled his early involvement with the project more than 10 years ago.
"I was first involved back in 2005-2006 with coating contractor Parada Painting," Amyot observed. "In 2007, I provided Parada Painting budget numbers on a variety of coating systems that were eventually used on the project. It took six to seven years to determine the project's feasibility."
Among Amyot's recommendations were coating systems for structural steel, miscellaneous ferrous metals, exterior surfaces of valves and piping, exterior polyvinyl chloride (PVC) and chlorinated polyvinyl chloride (CPVC) piping, and cast-in-place concrete infrastructure.
"All of the project's coating systems met San Diego Air Pollution Control District limits for volatile organic compounds (VOCs), which is 250 grams per liter or less," Amyot explained. "Coating systems for drinking water environments also complied with NSF/ANSI Standard 61 requirements for materials that come in contact with potable water."
The selection of coatings for interior and exterior structural steel, pipes and valves included Series V69 Hi-Build Epoxoline II, an advanced generation polyamidoamine epoxy, Series 1075 and 1095 Endura-Shield, an aliphatic acrylic polyurethane coating.
Coatings for non-submerged, exterior PVC and CPVC piping were Series 115 Uni-Bond DF, a hydrophobic acrylic and Series 1029 Enduratone, a low-VOC, High Dispersion Pure (HDP) acrylic polymer.
The plant's concrete surfaces were patched and filled with Series 218 MotarClad, an epoxy-modified cementitious mortar, to eliminate voids and bugholes, prior to being topcoated with high-performance epoxies or polyurethanes.
Epoxy coatings for the plant's concrete channels included Series 22 Epoxoline, a 100 percent solids polyamine epoxy, and Series V140 Pota-Pox Plus, a polyamidoamine epoxy. Concrete secondary containment structures used Series 239SC ChemBloc, a novolac polyamine epoxy, and Series 282 Tneme-Glaze. The secondary containment system for fluorosilicic acid tanks used multiple coats of Series 252SC ChemBloc, a novolac vinyl ester mat-reinforced mortar system.
Series 406 Elasto-Shield, a fast-setting polyurethane lining, was part of the coating system for concrete in drinking water environments, while Series 290 CRU, an extremely hard urethane coating, provided additional protection against abrasion and impact for concrete secondary containment areas.
"Holiday testing was performed on all the concrete tanks," Amyot added. "Coating specifications included 19 color designations, ranging from grays and browns to safety red, yellow and orange. When you look at this plant, it's impressive."
Approximately 16,000 desalination plants exist worldwide in 150 countries, according to the Global Water Intelligence and IDA Worldwide Desalting Plant Inventory.
"In the next 10 years, you are probably going to have three big plants built in Southern California and another plant or two in Northern California," suggested Tom Pankratz, editor of the Water Desalination Report newsletter. "The trend is toward more desal. They are the most reasonable insurance policy against a long, protracted drought."
Reach Out to Tnemec
Get the Information You Need
Contact us now and request the exact information you're looking for. We look forward to getting you an answer ASAP.
Industries
Coatings for Your Industry
Tnemec provides protective coatings in various industries around the world, from wastewater to architecture.
Contact Your Rep
Looking for Some Local Coatings Guidance?
Reach out to one of our knowledgable and reliable representatives near you.