Building Industry Steps Up to 'A Quantum Leap for LEED'
LEED v4 Becomes a Reality in the Building Community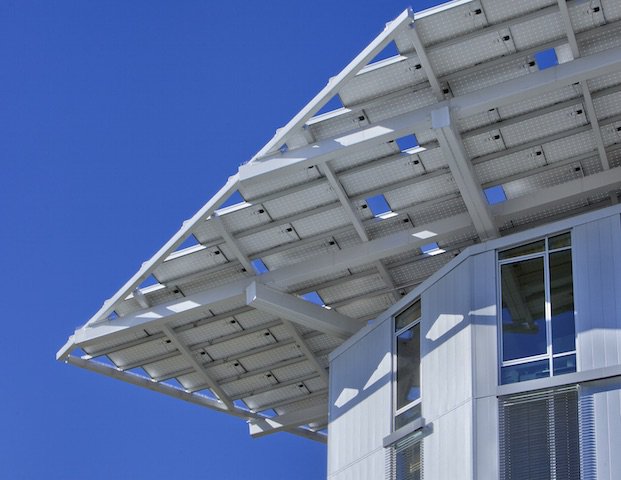 When the Leadership in Energy and Environmental Design (LEED) Version 2009 rating system expired on October 31, 2016, the U.S. Green Building Council (USGBC) completed the transition to its more rigorous LEED Version 4 (v4), which was launched in November 2013.
The same deadline applied to the Canadian market where LEED project registrations are administered by the Canada Green Building Council (CaGBC).
In an article for Green Building News, USGBC president, CEO and founding chair, Rick Fedrizzi, described LEED v4 as "a quantum leap for LEED."
"LEED v4 moves the market in a whole new direction," Fedrizzi shared. "LEED v4 is the LEED of the future, where we challenge the marketplace to go further, to make the next great leap toward better, cleaner, healthier buildings where people live and work."
Buildings can earn credit toward LEED certification by using certain products, including architectural coatings, which meet the rating system's Indoor Environmental Quality (EQ) requirements for low-emitting materials.
According to LEED v4, the intention of the low-emitting materials credit is "to reduce concentrations of chemical contaminants that can damage air quality, human health, productivity, and the environment."
The low-emitting materials credit covers volatile organic compound (VOC) content of materials, VOC emissions into indoor air, testing methods used to evaluate emission levels, and exterior-applied coatings for healthcare and school projects only.
Under LEED v4, paints and coatings must meet applicable VOC content limits of the California Air Resources Board (CARB) 2007 Suggested Control Measure (SCM) for Architectural Coatings, or the South Coast Air Quality Management District (SCAQMD) Rule 1113. Manufacturers are responsible for disclosing VOC content based on testing methods that are specified in the applicable regulation.
The low-emitting credit also applies to coatings applied on site to the exterior of healthcare and school projects only. To qualify, exterior-applied coatings must meet the VOC limits of CARB and SCAQMD Rule 1113.
The emissions evaluation of interior paint, coatings and adhesives, as well as flooring, ceiling and wall systems and insulation, is a new LEED requirement for achieving the credit for low-emitting materials. Testing protocols for these materials are covered in the California Department of Public Health (CDPH) Standard Method for the Testing and Evaluation of VOC Emissions from Indoor Sources Using Environmental Chambers Version 1.1.
At present, Tnemec has nearly 20 products that have been emissions tested in accordance with CDPH Standard Method v1.1, explained Jennifer Gleisberg, CDT, LEED Green Associate, Market Manager – Architectural.
"We will continue to test products which we will use in the architectural market for environmental projects going forward," Gleisberg shared. "At Tnemec, we are well prepared for LEED v4 becoming mandatory in October."
Among the LEED v4 compliant coatings are several frequently specified products including Series 94-H20 Hydro-Zinc, Series 394 PerimePrime, Series 27WB Typoxy, Series 156 Enviro-Crete, Series 971 Aerolon Acrylic, Series 1028 and 1029 Enduratone, Series 1080 and 1081 Endura-Shield, Series 256 Excellathane, Series 297 Enviro-Glaze, Series 1224 Epoxoline WB, Series 115 Uni-Bond DF, Series 1070V and 1071V Fluoronar and more.
Each product was emissions tested by UL Environmental, a leading safety and certification company. Testing measured the emission rates of VOCs from product samples in tightly controlled environmental chambers over a period of 14 days (336 hours). A model was used to predict the concentrations of pollutants on inside air.
"By working with suppliers to source the most environmentally preferable materials for its coatings, Tnemec has reduced the amount of solvent in its formulations," Gleisberg confirmed. "The result is lower emissions without compromising the quality, durability and performance customers rely on."
More than 90 products that have VOC content of less than 100 grams per liter are available from Tnemec, representing more than half of the company's product line. These low-VOC coatings maintain their performance while complying with CARB and SCAQMD regulatory requirements.
Points toward certification are also available for Health Product Declarations (HPDs), which are part of the Materials and Resources (MR) credits in LEED v4. HDP credits can be achieved by using 20 different permanently installed products from at least five different manufacturers.
The intention of HPDs, as stated in LEED v4, is "to reward project teams for selecting products for which the chemical ingredients in the product are inventoried using an accepted methodology and for selecting products verified to minimize the use and generation of harmful substances."
Gleisberg reported that Tnemec is actively working to incorporate the detailed product information required in HDPs with the intention of publishing declarations for a select grouping of products.
"Due to the number of raw materials Tnemec uses in finished products, this is a lengthy process which takes time to develop," Gleisberg acknowledged.
Meanwhile, Tnemec coating consultants continue to drive change in the construction community with up-to-date knowledge of environmental regulations and green initiatives.
"Tnemec's nationwide network of coating consultants is extremely knowledgeable when it comes to environmental issues," Gleisberg asserted. "The company often assists customers in using the latest coating technologies aimed at reducing environmental impact, providing education on applicable regulatory requirements, and making specific product recommendations to help maximize a project's sustainability."
"Tnemec has always strived to offer high performance coating systems that meet the air quality management district requirements," Gleisberg added. "We have been proactive throughout the evolution of indoor air quality standards, including the lead-up to LEED v4."
Reach Out to Tnemec
Get the Information You Need
Contact us now and request the exact information you're looking for. We look forward to getting you an answer ASAP.
Contact Your Rep
Looking for Some Local Coatings Guidance?
Reach out to one of our knowledgable and reliable representatives near you.
Industries
Coatings for Your Industry
Tnemec provides protective coatings in various industries around the world, from wastewater to architecture.