Giant Spheres Take Shape as 'A Wilderness with Wi-Fi'
Amazon Brings New Meaning to Work Atmo-'sphere'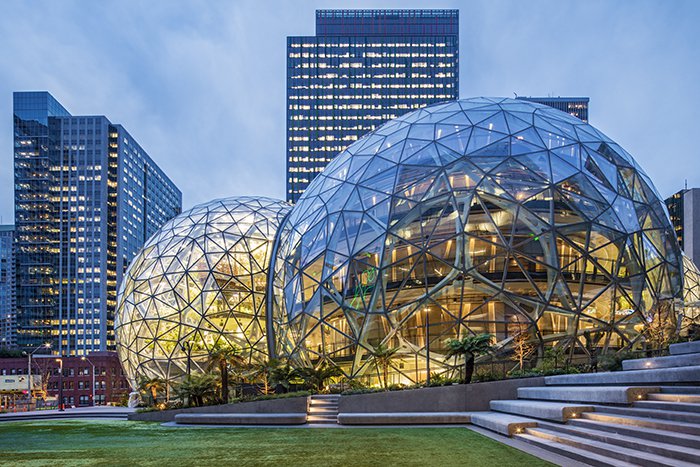 Long recognized as home of the iconic Space Needle, Seattle, Washington, has garnered national attention for the city's newest landmark consisting of three intersecting, spherical-shaped office structures that are the centerpiece of Amazon's new downtown corporate headquarters complex. 
"The architectural oddity has already become a tourist attraction and social media phenomenon," according to an article on Bloomberg.com. "The 100-foot-tall orbs – Amazon calls them Biospheres – will host more than 400 plant species from around the world, creating what the company sees as the workplace of the future."
The glass-enclosed Spheres that opened in January are part of a $4 billion urban campus being built from scratch for Amazon, which is the world's largest online retailer and Seattle's largest employer. The overall project spans three city blocks and includes three 37-story high-rise towers, two mid-rise office buildings and the iconic Spheres. 
The interior of the Spheres covers 65,000 square feet of space filled with tens of thousands of plants and trees, as well as rope bridges, a waterfall, a creek and a conference room enclosed by greenery, according to the project's architectural firm, Seattle-based NBBJ.
Citing research that shows the benefits of connecting employees to nature, the NBBJ website observed, "As exposure to nature is proven to put people at ease and help them think more creatively, the Spheres are designed to help Amazon employees feel and work their best."
The Spheres create an environment hospitable to both people and plants, the Seattle Weekly News reported. Daytime temperatures inside the Spheres are kept at 68 to 72 degrees with humidity just slightly higher than the Seattle average of 62, while nighttime temperatures drop to 55 degrees with humidity reaching 85 percent.
"Imagine sitting in a warm garden, surrounded by fully mature trees and a stream, typing peacefully on your laptop as rain smacks the glass above you," the Weekly News envisaged. "A wilderness with wi-fi."
The Spheres are designed to maximize sunlight, minimize heat gain, and achieve Leadership in Energy and Environmental Design (LEED) Gold certification, according to Inhabitat.com, a weblog devoted to the future of design.
"The goal is to create a working environment that is more park-like and exciting than a typical 'vanilla' office space," Inhabitat.com shared.
Many of the plants selected for the Spheres came from the cloud forests of Central America and Southeast Asia, which match the environment inside the Spheres, according to the Seattle Times.
"Interspersed in the main plant areas are fake logs and tree stumps that conceal air-circulating pipes," the Times observed. "Amazon supplements the sun's rays with dozens of stadium lights designed to make up for Seattle's dark winters. Sensors automatically adjust the light levels inside for an even 12 hours of simulated daylight to feed the plants."
The complexity of the Spheres with all the plants, trees and humidity inside caused the project's original coating specification for steel components to be revised from a standard urethane topcoat to a longer lasting fluoropolymer coating system.
"The change in coating systems moved the project from the medium-term life cycle of a traditional aliphatic urethane coating to a fluoropolymer system that included corrosion benefits, color and gloss longevity, and low-VOC content," Scott McConnell of TNW, Inc., explained. "As it turned out, the change has been extremely beneficial."
The fabricator spray-applied a primer coat of Series 90-97 Tneme-Zinc, a zinc-rich aromatic urethane coating over steel that was prepared in accordance with SSPC-SP10/NACE No. 2 Near-White Metal Blast Cleaning.
After the steel was shipped to the site and assembled, the field applicator power tool cleaned the weld seams and stripe-coated them with a single-component, zinc-rich aromatic urethane coating containing less than 100 grams per liter of VOCs.
Applicators completed the coating system with an intermediate coat of Series 27WB Typoxy, a water-based epoxy with exceptional durability and corrosion resistance, as well as a finish coat of Series 1072V Fluoronar, a low-VOC, fluoropolymer coating with outstanding color and gloss retention.
"Application of the coating system was flawless," McConnell recalled. "The same coating system was used on the exterior metal of Amazon's office building next to the Spheres, as well as on sculptures in a surrounding plaza."
With seating for up to 800 people, space in the Spheres is allocated to employees under a reservation system.
"Once inside, workers can use nooks with tables and chairs that can serve as a casual meeting space," the Associated Press reported. "Coffee breaks can be taken in a café and picnic area offering interior reprieve from Seattle's unrelenting rainy season."
Amenities inside the four-story Spheres include a ground-level waterfall, a tank with aquatic plants and animals, a tree house meeting room and 60-foot-high living wall covered by more than 200 plant species.
"The status of the new Seattle landmark is already being compared to the city's iconic Space Needle, though tourists shouldn't expect unfettered access," the Associated Press added. "What is fully open to the public is on the building's ground floor, including a free exhibit space detailing the Spheres project." 
Reach Out to Tnemec
Get the Information You Need
Contact us now and request the exact information you're looking for. We look forward to getting you an answer ASAP.
Contact Your Rep
Looking for Some Local Coatings Guidance?
Reach out to one of our knowledgable and reliable representatives near you.
Industries
Coatings for Your Industry
Tnemec provides protective coatings in various industries around the world, from wastewater to architecture.