Fluid-Applied Solution Provides Break from Thermal Bridging
Aerolon Provides Architects and Engineers with Thermal Break Breakthrough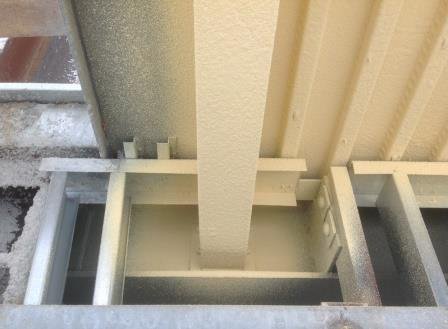 In early 2015, following detailed research and product development, Tnemec Company, Inc., introduced a new solution to thermal bridging that allows architects to design without having to engineer around the issue. The solution is a fluid-applied thermal break coating known as Aerolon, which has recently gained further attention in the architectural industry following an explanatory article published in Construction Specifier, entitled "Fluid-applied Thermal Break Coatings 101."
Thermal bridging – a common problem for architects designing with exterior-exposed elements in mind, such as architecturally exposed structural steel, roof penetrations, and canopies – can cause countless issues in buildings, including condensation buildup and the loss of energy performance. Other available solutions for this issue, most commonly referred to as thermal breaks, require a physical break between the external and interior elements.
"Up until now, architects and structural engineers have had only a handful of options when it comes to finding an adequate solution to thermal bridging," said Andy Hoffman, Product Manager – Insulation and Specialty Products, for Tnemec. "Aerolon offers another option that is easier to apply and could offer significant cost savings."
The Construction Specifier article supports this idea. Written by Paul Nutcher, CSI, CDT, AIA Allied, the paper introduces insulative coatings like Aerolon and describes their effectiveness through various studies and examples.
One such example in the article offered statistics for a window frame coated with an aerogel-infused thermal break coating, stating, "an existing aluminum window frame within a high relative humidity (RH) room with an outside temperature of -2 C (28 F) will go from a spot surface temperature reading of 8.4 to 20.3 C (47.1 to 68.5 F), once [110 mils] of the aerogel coating has been applied."
By raising the surface temperature of the substrate, the window frame surface stays above the dew point and condensation does not form. These conditions can be modeled using a given environment's data to determine the effectiveness of Aerolon at varying thicknesses.
The article goes on to say, "a fluid-applied, thermal insulating coating utilizing aerogel particles can impart exceptional insulative properties to a variety of substrates."
Fluid-applied thermal break coatings with aerogel offer thermal properties similar to that of conventional insulation and can be applied in the shop, or the field, to steel and concrete structures to limit the transfer of the outside temperature into the building envelope.
The application of Aerolon on buildings throughout the northeast, from Boston to Minnesota, has further proven its effectiveness. One case study was at a Pennsylvania university, where the architect was looking for a thermal bridging solution for its new student union. 
Rather than use thermal break pads, which were originally specified, the contractor and architects agreed that Aerolon would provide the most benefits and cost savings, according to Wally Bates, Tnemec coating consultant with Del-Val Coating Consultants.
"They decided to apply the thermal break coating in-shop and some minor touch-up was completed later in the field," stated Bates. "Steel beams for the union's canopy were shipped to the general contractor's location and the product was easily spray-applied to the beams with a texture pump."
Steel members for the building's canopy first received a coat of Tnemec's single-component, moisture-cured MIO/zinc-filled polyurethane primer, Series 394 PerimePrime, at 3.0 mils dry film thickness (DFT). The prime coat was followed by 60 mils DFT of Series 971 Aerolon Acrylic.
When applied to steel, this coating system also provides benefits beyond mitigating thermal bridging. Aerolon can be applied to a variety of different primers, including zinc-rich urethanes for increased corrosion protection and the primer's bond to the steel helps with associated issues, such as corrosion under insulation (CUI). And, as the aforementioned article states, "the warmer interior temperature of the structural members of the building can decrease condensation and assist in the prevention of mold."
The article also details how products like Aerolon can contribute to earning points for LEED certification and other green initiatives. While fluid-applied thermal break coatings provide many benefits, their environmental impact is small. Most of these coatings are acrylic-based and waterborne, making them low odor and low VOC.
"We hope that this paper on thermal break coatings will help others recognize the benefits of Aerolon," responded Andy Hoffman. "This fluid-applied solution helps control project costs and can allow architects and engineers to return to designing with traditional methods while still combating the issue of thermal bridging."
Engineers at Morrison Hershfield conducted tests and published a report on the successes of thermal break coatings on various architectural assemblies. Based on these findings, Tnemec has made available several construction detail guides to assist in Aerolon's application and specifications are also available for parties interested in the thermal bridging solution. These resources are available at thermalbreak.tnemec.com.
The article, "Fluid-applied Thermal Break Coatings 101," can be read in full on the Construction Specifier website. It originally appeared in the magazine's December 2015 issue.
Reach Out to Tnemec
Get the Information You Need
Contact us now and request the exact information you're looking for. We look forward to getting you an answer ASAP.
Industries
Coatings for Your Industry
Tnemec provides protective coatings in various industries around the world, from wastewater to architecture.
Contact Your Rep
Looking for Some Local Coatings Guidance?
Reach out to one of our knowledgable and reliable representatives near you.