Self-Adhesive, Insulating Tape Controls Condensation, Thermal Bridging
Caught on Tape: Condensation Control and Thermal Breaks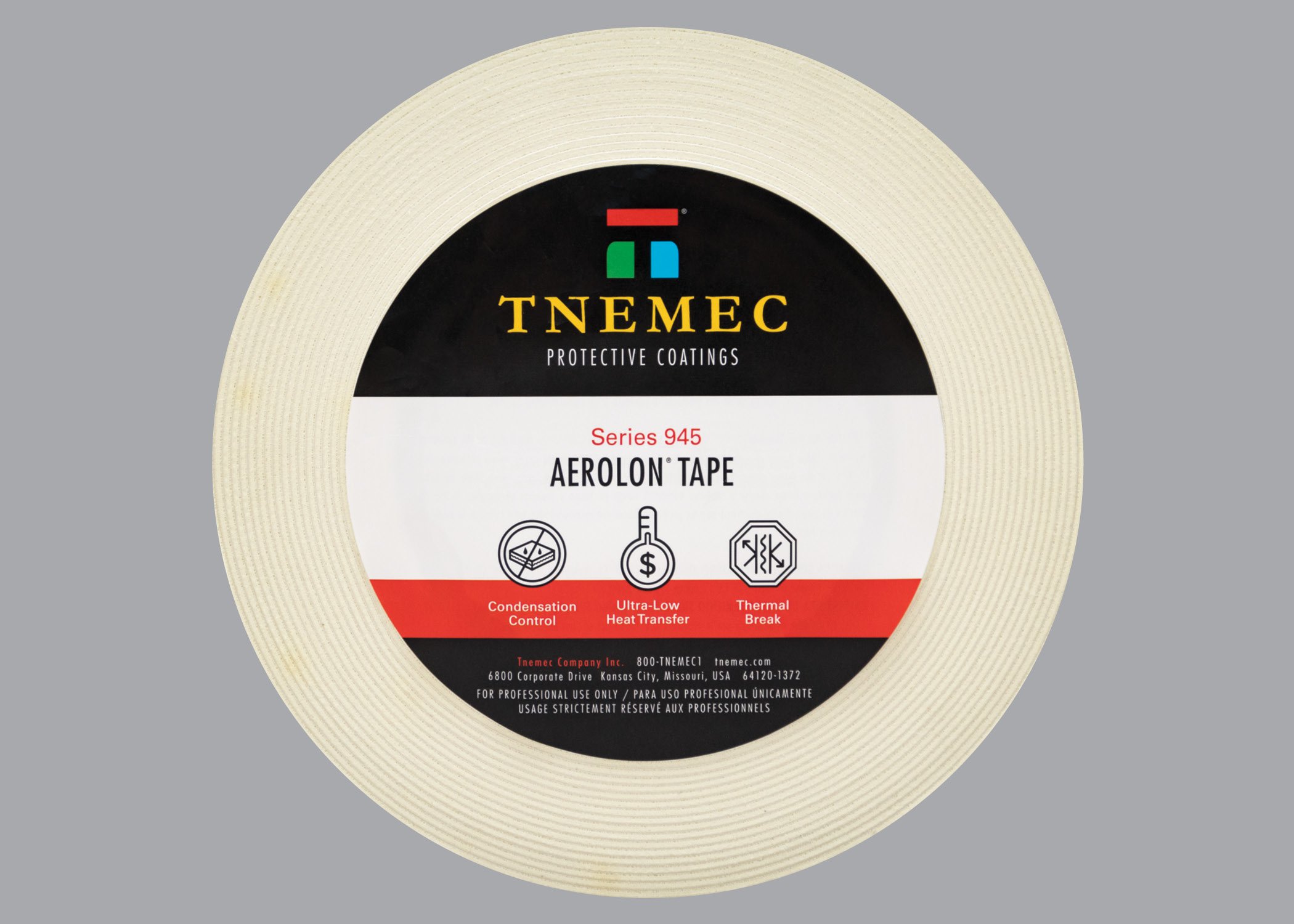 (KANSAS CITY, Mo., March 12, 2019) – Tnemec Company, Inc. has introduced a self-adhesive insulating tape for controlling condensation and providing thermal efficiency on architectural, industrial, water and wastewater applications. Series 945 Aerolon Tape contains a proprietary blend of insulative particles for exceptionally low thermal conductivity, according to Andy Hoffman, Director – Insulation and Specialty Products.
"The thermal properties of Aerolon Tape reduce condensation caused by the difference in the temperature between the two sides of a surface," Hoffman explained. "It has been used to prevent condensation on pipes, tanks and in areas where thermal bridging is a concern."
Available in multiple widths that are 30 feet long and 1.5 mm thick, the insulative tape can be applied in multiple layers to achieve desired thickness or in combination with Series 971 Aerolon Acrylic, a fluid-applied thermal insulating coating for use on a variety of substrates. 
"Architects and contractors appreciate the product's speed of installation and cold weather application," Hoffman shared. "On projects where construction schedules encounter temperatures too cold for Aerolon Acrylic to be spray applied, work can continue using Aerolon Tape. When temperatures reach below 50 degrees F, use of an electric heat gun can ensure proper bonding of the adhesive." 
Manufactured with a pressure-sensitive adhesive for easy installation, the insulating tape is excellent for controlling condensation on processing equipment and piping with surface temperatures less than 150 degrees F (66 degrees C). The tape is ideal for insulating smaller-diameter structures and helps eliminate the common overspray issues when fluid-applied insulating coatings are used. 
"In the food processing industry, where spray-applied coatings are more restricted, Aerolon Tape is an attractive option," Hoffman added. "Besides providing improved thermal efficiencies, it helps resist corrosion under insulation (CUI) that can create havoc on metal piping." 
For more information about Aerolon Tape or to receive a sample of the new product, visit tnemec.com/aerolontape. 
ABOUT TNEMEC (pronounced/tuh-knee-mick)
Established in 1921, Tnemec Company, Inc., manufactures more than 120 architectural and industrial coating products at facilities in Kansas City, Baltimore, Dallas, and Shanghai, China. Headquartered in Kansas City, Mo., Tnemec also operates distribution facilities in Atlanta, Dallas, Indianapolis, New Orleans, Seattle and Compton, Calif. In addition to the company's American network of technical representatives, Tnemec has technical representatives in Canada, the Dominican Republic, Puerto Rico, Trinidad and China. For more information about Tnemec, or any of its products, call +1-816-483-3400; write to 6800 Corporate Drive, Kansas City, Mo., 64120-1372; or visit tnemec.com.  
Reach Out to Tnemec
Get the Information You Need
Contact us now and request the exact information you're looking for. We look forward to getting you an answer ASAP.
Contact Your Rep
Looking for Some Local Coatings Guidance?
Reach out to one of our knowledgable and reliable representatives near you.
Industries
Coatings for Your Industry
Tnemec provides protective coatings in various industries around the world, from wastewater to architecture.