Exterior Renovation Revives 1970s Era Medical Center
Kaiser Permanente Medical Center Receives Healthy Renovation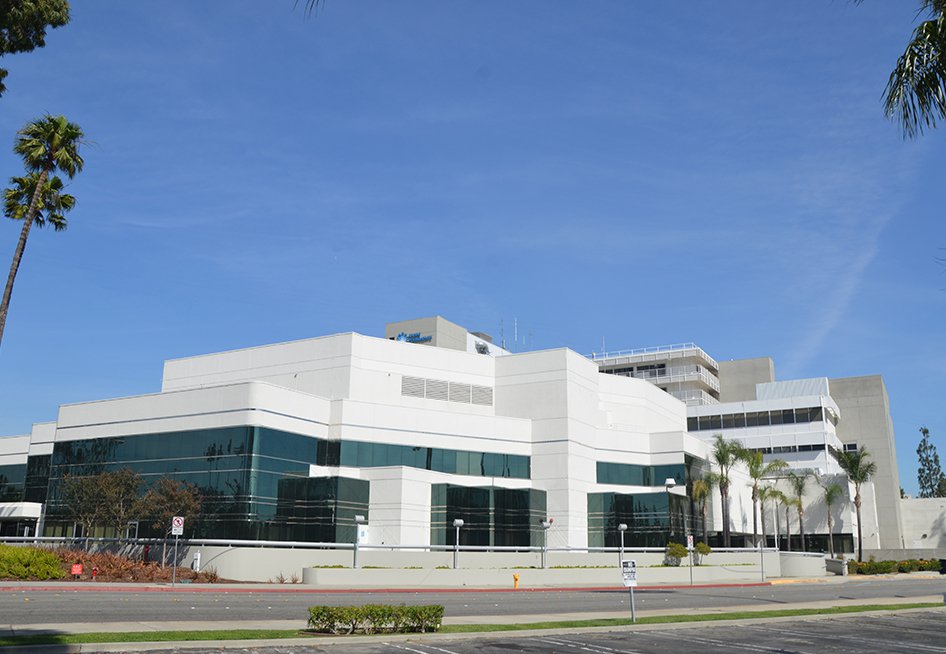 Beset by a deteriorating exterior and dated design, the Kaiser Permanente's Medical Center in Bellflower, California, was restored to good health following a major renovation of the building's façade and main lobby led by Frank Webb Architects (FWA) of Los Angeles.
"FWA's primary design strategy was to change the existing '70s aesthetics of dark brown and yellow exterior elements and provide a refreshing contemporary white material palette highlighted with bold supergraphics," according to the company's website.
The project included renovating the Medical Center's west tower and main lobby, build-out of the east façade, a new main entrance canopy and drop-off area, the addition of a staff patio and site landscaping. Many of these improvements reflect Kaiser Permanente's Total Health Environment initiative that emphasizes:
Environments full of light and fresh air
Drop-off and pick-up areas that offer safe, comfortable accommodations for easy building access
Entry exterior that enhances the outdoor experience and offers a lively, dynamic and enjoyable journey to the building entry
Staff spaces that offer respite, recharge and connection
Outdoor spaces that offer escape, respite and inspiration
"To allow views of the outside, the design of the new east façade involves horizontal bands of blue-green glazing and horizontal anodized aluminum mullion features for the upper floors five through eight," the FWA website explained. "On floors two through four, the existing shear walls adjacent to the exterior building envelope were visually concealed with a composition of cement board panels."
Incorporating views of nature is among the best practices included in the "Green Guide for Health Care," which provides a toolkit for healthy and sustainable building design, construction and operations.
Energy modeling was completed for the entire building to comply with Title 24 of the California Code of Regulations, which governs the design and construction of all building occupancies and associated facilities throughout the state.
"Energy studies of the new east façade were done for selection of appropriate high-performance glazing so that it performs 15 percent better than prescriptive mechanical Title 24 requirements," FWA reported. 
Landscaping improvements included a garden with patient seating, a water feature near the main entrance and a plaza for outdoor activities, such as educational events and on-site farmer's markets. Natural grass plantings and pedestrian paths were also added.
"Sustainability features include an increase in green open space and number of on-site trees, specification of low-water-use plants, use of efficient irrigation systems, high-efficiency LED site lighting, high SRI paving and diversion of construction waste," FWA noted.
Low volatile organic compound (VOC) stucco and steel panel coatings from Tnemec were selected for the renovation by FWA and specification consultant Marvin Chew based on a recommendation from Tony Hobbs of TPC Consultants, Inc.
"The existing metal panels and stucco substrates were in good shape, but needed rejuvenating," Hobbs recalled. "Because these were existing painted substrates, we performed adhesion testing to verify the performance of our recommended coatings."
Test patches were applied to the substrates in accordance with ASTM D6677 Standard Test Method for Evaluating Adhesion by Knife found the adhesion of the new coating to the existing coating was at an adequate level.
"You cannot assume that you can repaint an existing building without doing industry required test patches," Hobbs emphasized. "Once we confirmed the adhesion of our coating recommendations, we reported our results and they went out to bid."
Stucco surfaces were cleaned and dried prior to being overcoated with Series 156 Enviro-Crete, a breathable waterborne acrylate that can be used as a low cohesive stress overcoat for aged coating systems. The coating can also expand and contract with normal fluctuations of the substrate.
"Another benefit of our elastomeric coating is its ability to bridge and hide hairline cracks that are typically found in stucco surfaces – even painted stucco surfaces," Hobbs observed.
Exterior painted metal panels were sanded to create a surface profile prior to the application of a waterborne acrylic coating and a water-based, high-dispersion pure acrylic polymer coating with very good gloss and color stability.
Founded in 1945, Kaiser Permanente serves more than 10.6 million members in eight states and the District of Columbia. 
Reach Out to Tnemec
Get the Information You Need
Contact us now and request the exact information you're looking for. We look forward to getting you an answer ASAP.
Industries
Coatings for Your Industry
Tnemec provides protective coatings in various industries around the world, from wastewater to architecture.
Contact Your Rep
Looking for Some Local Coatings Guidance?
Reach out to one of our knowledgable and reliable representatives near you.