Aesthetics Gain a Foothold on 25-Year-Old Factory Floors
AVX Factory Floors Get a Makeover with Tnemec Coatings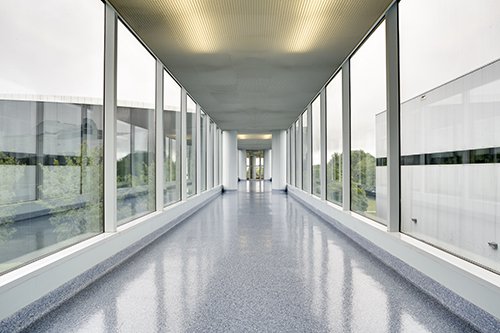 A 25-year-old manufacturing plant in Fountain Inn, South Carolina, has experienced a renaissance in recent years under a growth initiative by AVX Corporation that has led to major improvements of the facility, including the resurfacing of 200,000 square feet of floor space.
"The company wanted the facility's floors to be cleanable, slip-resistant and much more decorative than the existing flooring systems that were being replaced," according to Steve Elliott, vice president of Superior Surfacing Specialists, Inc. "They wanted the facility to be a showplace that conveyed the high-end nature of their business."
More than two years into the project, approximately 100,000 square feet of floor space has been resurfaced by Superior Surfacing Specialists, Inc. Elliott estimated another 18 months will be required to complete the job.
The project has involved resurfacing floors in clean room environments, mechanical spaces, production areas, as well as hallways, reception areas, locker rooms and restrooms. The scope of work has also included recoating a fire water tank, cooling tower and roof repairs on a bridge connecting the manufacturing facility to the company's global headquarters.
"The sheer size of the project has been a challenge," Elliott conceded. "We have worked on floors up to 35,000 square feet with a deadline for completion of less than 10 days. Our crews range in size from as few as five to as many as 15 or 16, depending on the size of the area we are working in."
Resurfacing floors in a fully functioning manufacturing facility has required careful planning and coordination between plant personnel and Elliott who hold monthly meetings to discuss when and where resurfacing crews will be working next. These meetings include a pre-construction walk-through to identify manufacturing equipment that needs to be relocated, the number of days required to resurface the floors, and a timeline for when the work will be finished.
"Scheduling is especially critical while working in heavily traveled areas such as corridors and the employee cafeteria," Elliott emphasized. "When our crews are working in an area, no one else can be in there. So much of the work has to be scheduled over the holidays."
The 25-year-old facility contained a hodgepodge of flooring systems, including carpeting, vinyl composition tile (VCT) and painted surfaces. The scope of work involved removal of all existing flooring systems down to the concrete substrate, which was prepared in accordance with SSPC-SP 13/NACE No. 6 Surface Preparation of Concrete.
Resurfacing equipment was used to remove the weak laitance layer of concrete and provide an International Concrete Repair Institute (ICRI) Concrete Surface Profile (CSP) ranging from three to five.
Specifications for resinous flooring systems were prepared by Elliott and coating consultants Mike and Dan Anderson of TSE, Inc., who had first-hand experience with the AVX manufacturing facility when it was being built.
"A three-coat Tnemec flooring system was among the original flooring systems installed in the plant when it was new," Dan Anderson recalled. "About 25 years later, when the owners were preparing to resurface the floors, we were told that the only original flooring system that had held up was the one from Tnemec. That experience gave them confidence when we recommended flooring systems based on newer technology."
Most floors in the facility are being resurfaced with a seamless, decorative epoxy flooring system that duplicated the color of new VCT tile used in certain areas of the plant.
"We were provided with a sample of the tile that Tnemec was able to match," Elliott recalled. "After we began installing our seamless floor systems, we were told to tear up the VCT tile that was installed and replace it with our flooring system."
On the main level of the facility, floors showed signs of moisture migrating up through the concrete, causing contamination or delamination of the existing flooring systems. These floors were primed with Series 208 Epoxoprime MVT, a modified polyamine epoxy designed to reduce moisture vapor transmission, as part of the decorative epoxy flooring system. Series 208 penetrates the concrete surface to provide excellent adhesion and ultra-low permeability, helping to reduce moisture-related issues.
"We have had great success using Tnemec Series 208 to mitigate the moisture vapor transmission issues at the facility," Elliott acknowledged.
Corporate logos made of perforated mats embedded into the flooring resin were strategically placed in public spaces throughout the facility. All of the flooring systems included coves at the base of the walls.
Other coatings that were specified included a polyurethane modified concrete used for boiler room applications, a urethane sealer with superb wear characteristics and a polyamine epoxy resistant to frequent pressurized hot water and detergent cleaning.
"These flooring systems hold up to abuse, maintain their aesthetics and are easy to clean," Dan Anderson added. "They wanted this facility to look like new and these floors have made it look beautiful."
As a leading manufacturer of advanced electronic and interconnect components, AVX Corporation serves a diverse range of markets including computers, telecommunications, cellular, automotive, medical and industrial. AVX merged with Kyocera Corporation of Japan in 1990.
Contact Your Rep
Looking for Some Local Coatings Guidance?
Reach out to one of our knowledgable and reliable representatives near you.
Industries
Coatings for Your Industry
Tnemec provides protective coatings in various industries around the world, from wastewater to architecture.
Reach Out to Tnemec
Get the Information You Need
Contact us now and request the exact information you're looking for. We look forward to getting you an answer ASAP.