Aircraft Hangars Help Maintain a First-Class Customer Experience
Houston's Million Air Upgrades their Hangar with Tnemec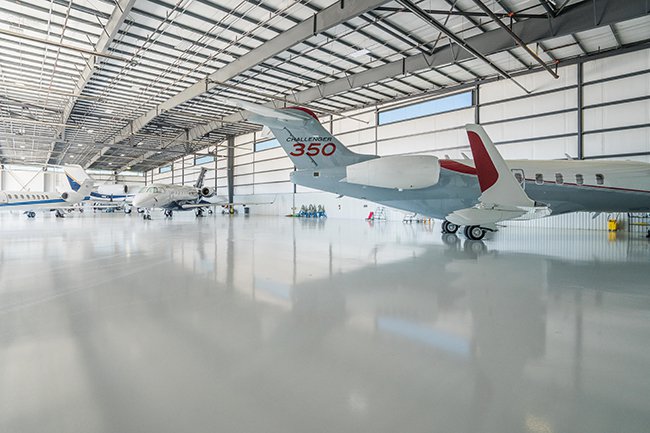 At airports and landing fields around the world, noncommercial hangar and service facility managers are being challenged to do more than just house multi-million-dollar aircraft or deliver increasingly complex maintenance check-ups. They are also tasked with maintaining the physical appearance of these facilities to enhance the company's image and enrich the customer experience.
The concept is hardly new at Million Air, a luxury fixed-based operator (FBO), which has placed a high priority on the upkeep and appearance of company assets such as hangars and service facilities for more than 30 years. Headquartered in Houston, Texas, Million Air provides charter, maintenance and other services through a network of independently licensed FBOs in the U.S., Canada and the Caribbean.
"The need was established when the originator of the Million Air network recognized that their customers and clients were stepping off multimillion dollar aircraft into facilities that were subpar and designed for maintenance and flight schools, not luxury," the company website explained. "We use location, design and décor to set the stage for our extremely talented employees to create extraordinary customer experiences."
A case in point involved the Million Air FBO at Addison Airport in North Dallas, Texas, where hangar floors needed resurfacing after an existing coating system had failed last year. The owner reached out to an airport managers group on LinkedIn to ask for coating recommendations, which led him to the StrataShield line of seamless, resinous flooring systems from Tnemec Company, Inc.
"Million Air is a luxury jet service and aesthetics are very important to them and their business model," coating consultant Bill Bailey of The Barry Group emphasized. "The company deals with a high-end clientele, so it was important that the new flooring system be easily cleaned, resist black tire marks and, unlike the previous coating, actually stuck to the concrete."
The Million Air project consisted of two 12,000-square-foot hangars and one 38,000-square-foot hangar. During a visit to the hangars, Bailey and the operations manager with coatings contractor, T.W. Hicks, gauged the scope of the project that included removal of the existing coating system that had failed.
"Someone had promised the owners a million-dollar floor system for a dollar," Bailey explained. "It was an inferior coating material that was coming off the concrete and peeling. The floors were covered with black tire marks and the tires were pulling up the coatings."
T.W. Hicks discovered cracking in both smaller hangars and hairline cracks over much of the concrete surface in the large hangar where he also found a partially finished coating system that had been applied by another contractor.
According to the contractor, only half of the large hangar had been coated when Million Air informed them that the quality of work was unacceptable. The problem was due, in part, to an inferior product and improper application.
Based on the evaluation, Bailey recommended a three-coat system that consisted of a penetrating epoxy primer, a flexible epoxy basecoat and a chemical-resistant polyurethane finish coat mixed with glass beads. The coating contractor prepared mockups of the coating system in the shop, as well as in one of the hangars, to demonstrate its performance and aesthetics.
"Chemical resistance and aesthetics were extremely important to the owners," recalled Bailey "That is why the application team applied a basecoat of Series 206 Sub-Flex EP at 30 mils to bridge all of the cracks in the hangars and to help prevent future cracking in the topcoat."
T.W. Hicks followed Series 206 with a topcoat of Series 291 CRU (chemical-resistant polyurethane). Series 291 was recommended based on its excellent resistance to grease, oils and aviation fuels that can cause blemishes easily visible on hangar floors. The extremely hard coating also provides outstanding color and gloss retention.
"The floors turned out beautifully," Bailey added. "T.W. Hicks did a fantastic job and most importantly, the owner was extremely happy with his new floors."
Reach Out to Tnemec
Get the Information You Need
Contact us now and request the exact information you're looking for. We look forward to getting you an answer ASAP.
Industries
Coatings for Your Industry
Tnemec provides protective coatings in various industries around the world, from wastewater to architecture.
Contact Your Rep
Looking for Some Local Coatings Guidance?
Reach out to one of our knowledgable and reliable representatives near you.