Avoid Underestimating Overcoat Risk Factors
Corrosion Present, Number of Coats, Adhesion to the Substrate and Other Factors to be Considered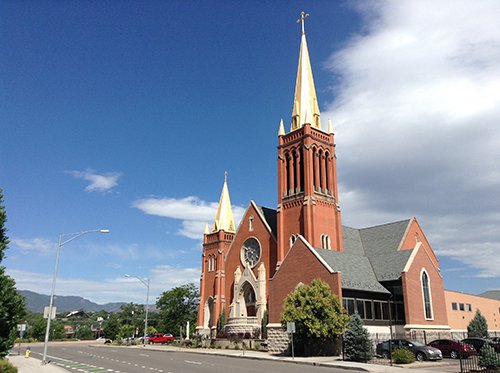 Determining whether overcoating aged paint systems is a feasible alternative to complete removal and repainting requires careful consideration of several variables, starting with the condition of the existing coating system.
"Old paint systems with high delamination risk factors are usually not candidates for overcoating," explained Cory Brown, Vice President, Tnemec Technical Services. "The amount of corrosion present, number of coats, adhesion to the substrate, adhesion between coats and geographic exposure conditions are all factors that need to be considered."
Brown cited various methods for evaluating the degree of rusting on painted steel surfaces, such as The Society for Protective Coatings (SSPC) VIS-2 Standard Method of Evaluating Degree of Rusting on Painted Steel Surfaces. Using this standard, corrosion on painted steel surfaces can be compared to photos and other images that illustrate different degrees of spot, general and pinpoint rusting.
Other methods for evaluating blistering, testing adhesion and assessing coating compatibility are also available for determining whether aged coatings are candidates for overcoating, Brown noted.
"Adding additional coats of paint to an old paint system will always increase the degree of cohesive stress," Brown emphasized. "The risk factor question is usually not if the new system will adhere to the properly prepared surface of the old, it's whether or not the old system has good enough film integrity and adhesion between coats and to the substrate to support an overcoat system without literally falling apart."
According to Brown, cohesive stress exerted on the existing coating system will vary for various generic type coatings. Non-flexible two-component epoxies and aliphatic urethanes will develop more cohesive stress upon curing than more flexible coatings such as acrylic emulsions, long oil alkyds, moisture cured urethanes and epoxy mastics.
The use of flexible, low cohesive stress overcoat systems becomes especially important in areas of the country that are subject to frequent freeze/thaw cycles, Brown observed.
"Regardless of the generic type overcoat system, the higher the film thickness the greater the cohesive stress on the existing system," Brown added. "Worse case scenarios are multi-coat, high film thickness, existing coating systems with poor adhesion between coats or to the substrate in a freeze/thaw locale."
Some projects may require laboratory analysis in assessing the feasibility of overcoating a painted metal surface. Brown and his technical services staff in Kansas City are regularly called on to analyze old paint material and establish whether a project is a candidate for overcoating.
In Colorado Springs, Colorado, coating consultant Andrew Richardson enlisted Tnemec's Technical Services Department to assess the feasibility of overcoating the spires on St. Mary's Catholic Church, which is listed on the National Register of Historic Places.
"St. Mary Cathedral is significant to Pikes Peak Region both for its architecture and its history," according to the Statement of Significance submitted to the National Register of Historic Places. "The church, striking in appearance as it is silhouetted against the Monument/Fountain Creek Valley and Pikes Peak in the background, has been an important component of the Colorado Springs skyline ever since its completion."
The church's red-brick exterior is accented with cut limestone in a modified Gothic architectural style that includes a pair of bell towers crowned with steep sheet metal spires. The church was dedicated in 1898, although construction of the bell towers and spires continued for several more years.
"The spires were added to the church in 1907, so they are more than 100 years old," explained Richardson of Elevation Product Representatives. "Over the years, the metallic finish on the spires had faded away and their thin gauge galvanized panels were in rough shape."
Working from a boom lift, Richardson examined the condition of the spires and collected samples of the old coating material, which were sent to Tnemec's technical staff for a generic and overcoat analysis. Laboratory testing determined that the existing paint was acrylic material applied at approximately 6.0 mils dry film thickness (DFT).
"The analysis established that we had a candidate for overcoating," Richardson recalled. "We specified a coating system that considered the condition of the 100-year-old galvanized steel, as well as other variables such as weather and the location of the church in the middle of downtown Colorado Springs."
Series 118 Uni-Bond Mastic, a waterborne acrylic elastomeric coating, was spray-applied as a spot primer and full tie coat. Series 118 is formulated for exceptional adhesion and corrosion resistance over minimally prepared aged coating systems.
Another consideration was the location of the church in city's downtown business district. Richardson cited the "dry-fall" characteristics of Series 118, which reduced the potential for overspray problems on buildings and surrounding property.
"Series 118 was a perfect solution for minimal to marginal surface preparation with a pressure washer to remove loose paint and dirt," Richardson noted. "It also provided a great foundation for a metallic fluoropolymer finish coat that brought the spires back to life with sparkle they had never seen before."
Series 1078 Fluoronar Metallic, a high-solids fluoropolymer coating, was color matched to achieve a light shade of gold that met the owners expectation. Series 1078 uses high-performance pigments and other ingredients that improve long-term durability, as well as color and gloss retention even in the most severe exposures.
"The project has received a lot of attention because of how bright and shiny the spires appear compared to the way they used to look," Richardson added. "The spires are visible off in the distance and have become a source of community pride."
Reach Out to Tnemec
Get the Information You Need
Contact us now and request the exact information you're looking for. We look forward to getting you an answer ASAP.
Contact Your Rep
Looking for Some Local Coatings Guidance?
Reach out to one of our knowledgable and reliable representatives near you.
Industries
Coatings for Your Industry
Tnemec provides protective coatings in various industries around the world, from wastewater to architecture.