Innovative Design Takes Off at The World's Busiest Airport
The Hartsfield-Jackson Atlanta International Airport adds a pair of innovative arched canopies protected with Tnemec coating systems.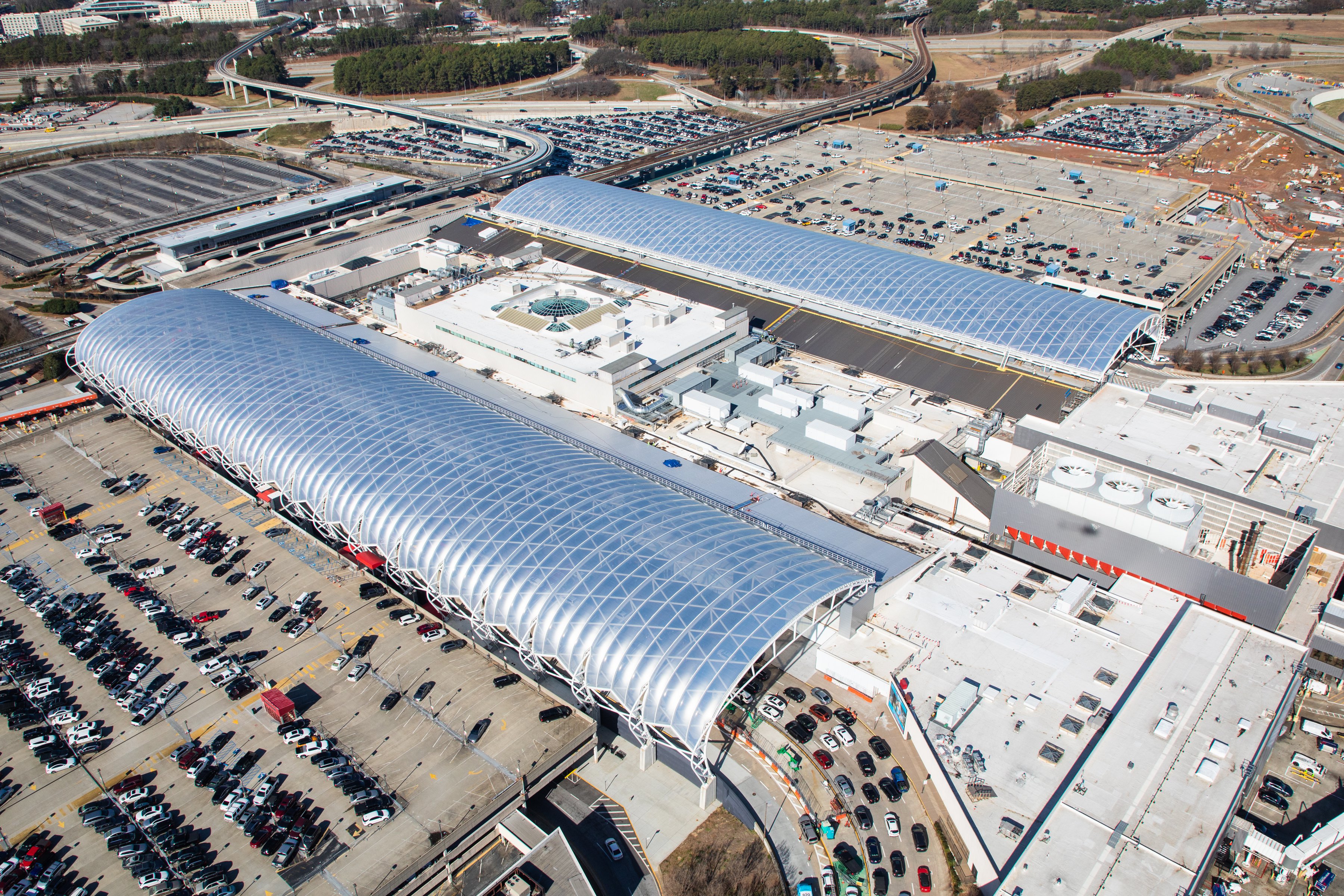 With 2,700 arrivals and departures daily, the Hartsfield-Jackson Atlanta International Airport has raised the passenger amenities at its domestic terminal to the next level with a pair of innovative arched canopies that represent the defining feature of the busiest airport in the world.
Located on the north and south sides of the terminal, each 864-foot-long canopy spans several lanes of traffic where passengers are picked up and dropped off. Designed by a team of architects and engineers led by HOK, the canopies are part of a $6 billion, 20-year expansion and modernization initiative known as ATLNext.
"The airport's vision is to create an exceptional experience for all its guests," according to HOK's website. "The solution embraces the buzz of the world's most traveled airport while giving passengers a sense of ease and clarity navigating the world-class, 400,000-square-foot domestic terminal."
Several canopy designs were considered by the team of architects and engineers, the Atlanta Journal-Constitution reported.
"The final idea the team settled on was one with a steel frame that creates an archway over vehicles entering the terminal area, and a translucent material for the canopy that can be illuminated with colored lights," the newspaper noted. "Pedestrian bridges will allow passengers to walk from the garages to the terminal without having to cross the road, an improvement intended to increase safety and reduce traffic congestion."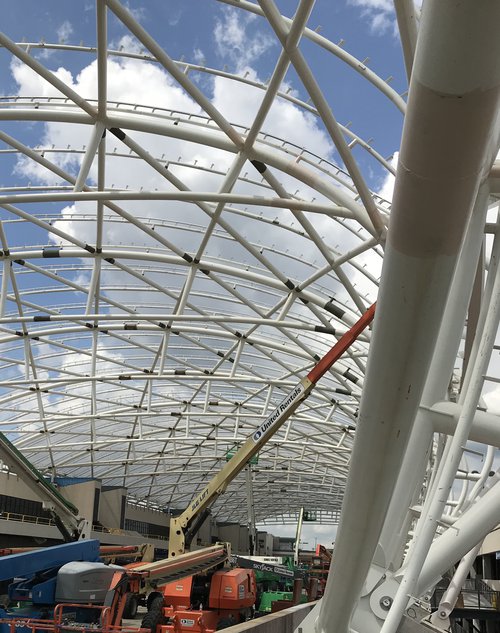 Each canopy is clad with a self-cleaning, lightweight ethylene tetrafluoroethylene (ETFE) membrane capable of withstanding extreme weather conditions, according to the Hartsfield-Jackson Atlanta International Airport's website (atl.com).
The support structure for each canopy consists of 19 steel trusses fabricated in Lubbock, Texas, by Beck Steel, Inc. Custom-designed jigs were used by the fabricator to test the exact alignment of connecting sections of each truss before they were shipped to Atlanta where installers relied on a duplicate set of jigs to ensure the precise placement of trusses during final assembly.
"No one had ever done anything like this before," suggested Lane Salvato of The Barry Group, LLC, based in Texas. "It took innovative engineering and an ability on the fabricator's part to see past normal construction practices and be about as innovative as any fabricator has ever been."
Salvato assisted with the selection and testing of the high-performance coating system which was entirely shop-applied to the trusses by the fabricator.
"It is fairly unusual for the fabricator to apply the entire coating system," Salvato acknowledged. "With any project this size, you don't just throw some paint on the steel and send it out to be erected. There was an enormous amount of checks and quality control measures that had to take place because no one had ever done anything like this before."
High on the fabricator's list of performance criteria was the need for a coating system that was easy to apply in the shop as well as the field. With a large amount of architecturally exposed structural steel (AESS), special care would be required for areas at eye level.
"Although the coatings were applied in Lubbock, there was considerable touch-up required at the jobsite in Atlanta," Salvato pointed out. "So, we needed a coating system that performed in Lubbock's windy, arid and dusty weather as well as Atlanta's humid, hot climate with its heavy rainfall."
Steel trusses were prepared in accordance with SSPC-SP 6/NACE No. 3 Commercial Blast Cleaning and primed with Series 90G-1K97 Tneme-Zinc, a single-component, zinc-rich aromatic urethane coating. An intermediate coat of polyamide epoxy was applied over the primer, followed by a white finish coat of Series 73U Endura-Shield, an aliphatic acrylic polyurethane that offers additional protection from ultraviolet (UV) light.
"The zinc-rich primer provides unparalleled corrosion protection," Salvato explained. "The epoxy we used as an intermediate coat was very familiar to the fabricator, architect and coating contractor and the finish coat was highly resistant to abrasion, wet conditions, corrosive fumes and exterior weathering, and provided additional protection from UV light."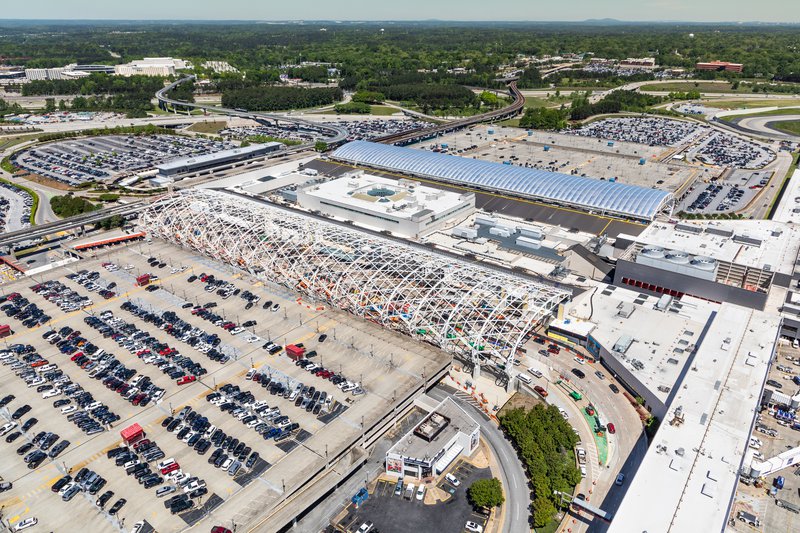 A similar three-coat system was used in Atlanta where coating consultant Pat Murphy of Southeastern Resources, Inc., provided technical support to the owner, architects, general contractor and field applicators.
"This coating system was extremely user friendly," Murphy recalled. "Although the project encountered numerous weather delays and challenges caused by the high volume of traffic at the airport, every issue was satisfactorily resolved."
The scope of the project, which required more than 3,500 tons of fabricated steel and nearly 9,000 gallons of coatings to complete, involved an all-out team effort from Murphy, Salvato, Tnemec technical service specialists and product managers.
"Because this was the first canopy design of its type and by far the biggest, there was worldwide interest in this project," Murphy emphasized. "The new canopies are considered the defining feature of the airport and an architectural icon for the city of Atlanta, so we wanted to make sure nothing was left to chance."
"This was a giant project with a lot of moving parts that required a willingness to communicate, to cooperate and to think outside the box," Salvato added.
Inside the domestic terminal, interior renovations feature a 150,000-square-foot park-like atrium filled with trees, plantings and natural lighting. Other amenities include enhanced security screening and baggage claim areas, redesigned circulation and signage systems, improved digital monitors and light fixtures.
In 2017, the Hartsfield-Jackson Atlanta International Airport processed 103.9 million passengers making it the world's busiest airport based on a ranking published by Airports Council International.


E-News
Coating News Direct to Your Inbox
Stay informed about industry news and innovative coating products via email.
Reach Out to Tnemec
Get the Information You Need
Contact us now and request the exact information you're looking for. We look forward to getting you an answer ASAP.
Contact Your Rep
Looking for Some Local Coatings Guidance?
Reach out to one of our knowledgable and reliable representatives near you.