Generating Corrosion Control at Canada's Hydropower Plants
Hard work pays off for power company in BC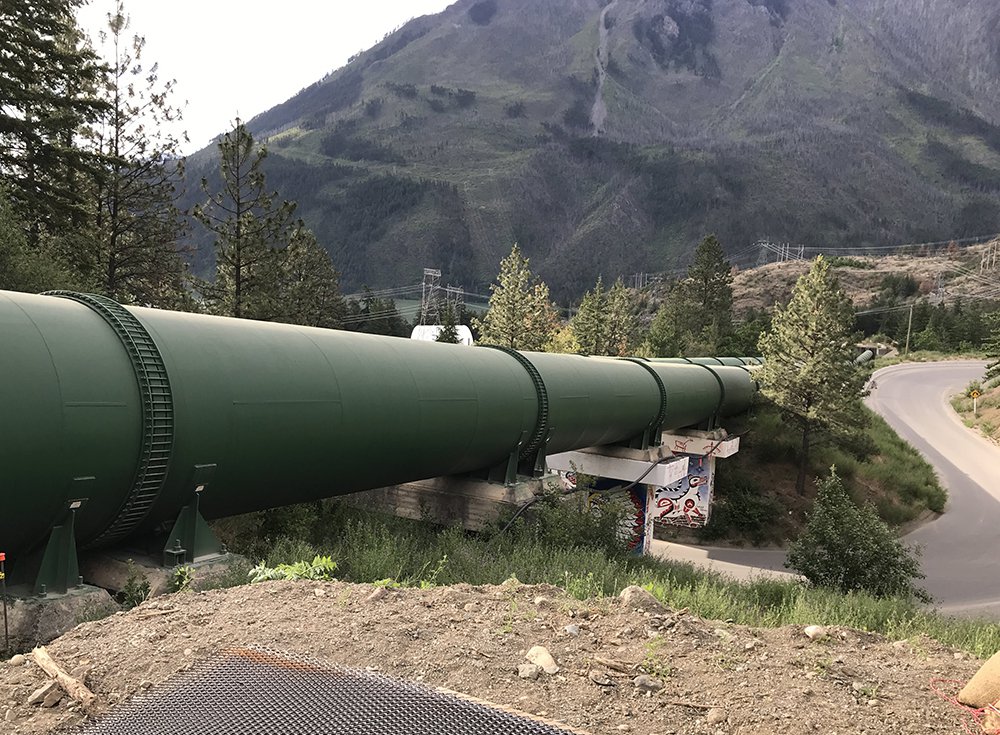 As a leading producer of hydroelectric energy in the world, Canada is home to more than 500 generating facilities that produce over 60 percent of Canadian electricity using hydropower technology.
"Hydropower has been the quiet leader for Canadian electricity consumers for many years," Hydro Review magazine reported. "It is so deeply rooted in Canada that many people use the terms 'hydro' and 'electricity' interchangeably. Canadians often refer to paying their phone bill, their cable bill and their hydro bill."
Hydropower technologies divert the force of moving water through a closed conduit or pipe, known as a penstock, to a scroll case that houses a turbine. The moving water causes blades on the turbine to rotate, which in turn propels a shaft attached to a generator to produce electricity.
"With many rivers across the country, Canada has hydropower in all regions," according to WaterPower Canada (WPC), which is the national trade association formerly known as the Canadian Hydropower Association. "Over the years, hydropower has been the leading source of electricity in Canada and its predominance continues today."
Citing the efficiency of hydropower, the WPC emphasized that modern hydroelectric stations can convert more than 95 percent of the available energy from the river into electricity. That compares to about 60 percent efficiency for fossil fuel power plants.
"Hydropower stations have a very long service life, which can be extended further with refurbishment works," the WPC explained. "In addition to extending the service life of hydropower facilities by decades, the rehabilitation of installations can provide an opportunity to improve the efficiency of facilities and increase their capacity to meet peak power demand."
This year, Canadian electric utility BC Hydro of British Columbia is scheduled to complete 100 major upgrades to its Bridge River hydropower system at a cost of $700 million. The Bridge River complex consists of three dams and stores water for four generating stations, according to BC Hydro. The system uses Bridge River water three times in succession to generate 492 megawatts, or 6 to 8 percent of British Columbia's electrical supply.
The scope of work announced by BC Hydro included replacing generating equipment in the Bridge River 2 powerhouse and relining the entire length of the penstock from its inlet valve down to the end of the scroll case that houses the turbines.
The relining project presented several challenges for Tyler Colby and his 27-man crew from Jewel Holdings of Maple Ridge, British Columbia. The project's remote location required crew members to travel daily over a narrow gravel road or by boat from their lodgings in local towns to the job site where they worked 12-hour shifts. Depending on weather conditions, their commute could take up to 50 minutes one way.
The steel penstock, measuring 10 feet in diameter and approximately 5,000 feet long, descended along a downhill slope that created a demanding work environment for Colby's crew.
"The most difficult part of the job was surface preparation inside the penstock," Colby recalled. "About 60 percent of the interior surface of the penstock was pitted and corroded from deposits of magnetite, which is very difficult to remove. It took a tremendous effort to clean the steel prior to coating."
Inside the scroll case, the coating crew encountered technicians representing several different trades installing the new generators.
"Working among seven or eight different trades in the powerhouse at the same time was like working in a beehive," Colby observed. "That many people in the powerhouse made the surface prep and coating processes very difficult logistically."
As the project progressed into the summer, temperatures inside the penstock reached up to 60 degrees Celsius (140 degrees F). To combat the heat, insulation was placed on the exterior of the penstock which was segregated into sections where dehumidification equipment and a 100-ton air conditioning unit were used to cool the interior.
"It was November by the time we finished the project and snow had already hit the ground," Colby noted. "We were getting down to minus 5-degree Celsius temperatures, so we swapped out our air conditioning unit for a 75 KVA inline electric heater until the job was finished."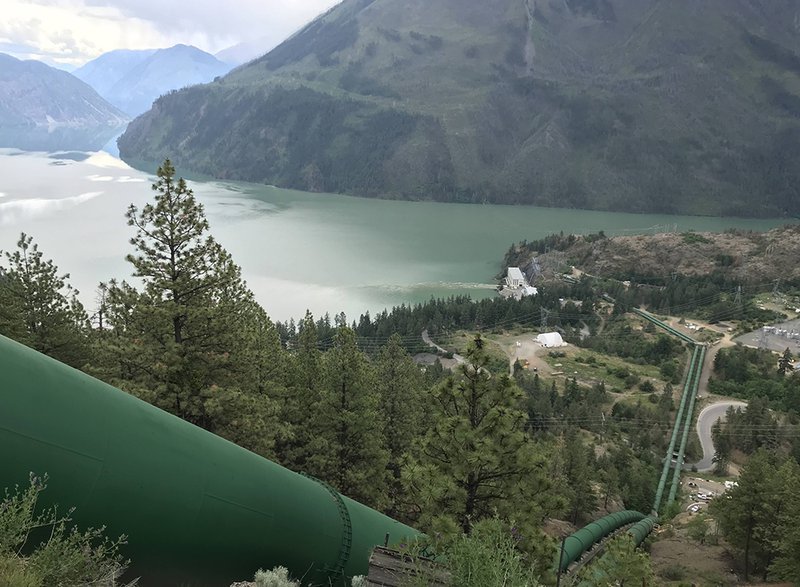 The coating specification for the project contained very stringent performance requirements, which the coating contractor was able to achieve with technical support from Tnemec and Norm Walline of HDIM Protective Coatings.
"This was an extremely challenging project, but Tnemec tech service staff was on-site helping us with different technical aspects of the job from the time it was awarded to the final hand-over meeting," Colby shared. "Their customer service was very good."
Severely pitted surfaces of the penstock were filled with a trowel-applied coat of Series 215 Surfacing Epoxy, an advanced-generation, 100-percent solids epoxy filler. A specially modified plural component sprayer was used to apply Series 431 Perma-Shield PL, a 100-percent solids high-build modified liner developed for the unique needs of steel and ductile iron pipe.
"The lining material was phenomenal to work with," Colby said. "Using the modified spray equipment, we were able to apply a nice, continuous film with only 2.5 mils deviation in thickness through the entire penstock. That was pretty exciting to us."
Walline estimated more than 6,000 gallons of lining materials were required to achieve the continuous dry film thickness of 45 mils throughout the penstocks.
Both Walline and Colby are looking forward to working on other penstock projects using the same lining system that proved successful at the Bridge River 2 facility.
"It was a very unique project and the first of a substantial recoating program for BC Hydro penstocks for years to come," Walline added. "In British Columbia and Quebec there are close to 30 penstocks that will need recoating over the next several years and we hope to be working with many of those."
BC Hydro is the third largest electric utility in Canada, serving approximately 1.9 million customers throughout the province of British Columbia. The primary source of BC Hydro's generation is several large hydroelectric generating stations combined with water reservoirs located throughout the province.

Reach Out to Tnemec
Get the Information You Need
Contact us now and request the exact information you're looking for. We look forward to getting you an answer ASAP.
Contact Your Rep
Looking for Some Local Coatings Guidance?
Reach out to one of our knowledgable and reliable representatives near you.
Chemical Resistance
Find the Right Chemical-Resistant Coating
Look up Tnemec products by their chemical resistance, or vice versa.