High-Performance Floors and Walls
StrataShield Protective Coatings for Durability and Aesthetic Appeal
The StrataShield product line, developed by Tnemec Company, offers comprehensive, specialized floor and wall coating systems designed for a variety of environments. StrataShield products withstand physical and chemical abuse, including repeated abrasion, frequent cleanings, and thermal shock, while providing each surface with an attractive finish. With options that are tailor-made based on project needs, these floor and wall systems are high-performance alternatives when the conditions require extra protection.
Like other Tnemec products, extensive research and testing has gone into developing the StrataShield line of floor and wall systems to produce consistent products and create superior results and performance. These products demonstrate lasting protection and have extended life cycles in facilities around the globe. With stringent quality control standards, Tnemec ensures client satisfaction when StrataShield products are delivered to the jobsite.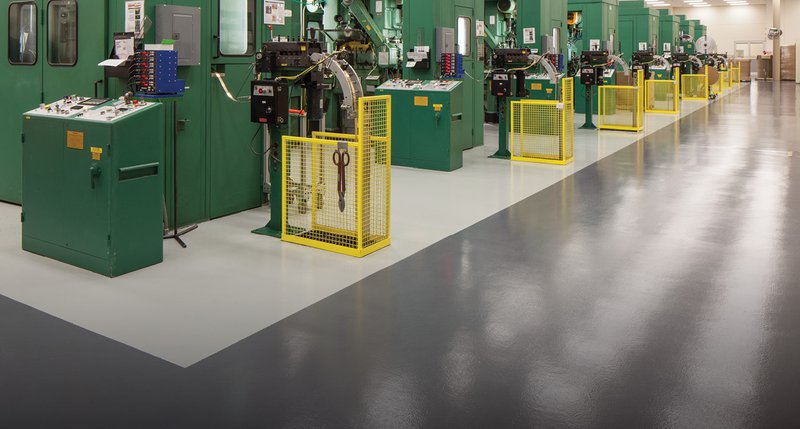 STRATASHIELD OPTIONS + BENEFITS
Chemical resistant formulations
Easily cleaned and maintained
Resistant to thermal shock and cycling
Seamless and sanitary (with antimicrobial available)
Fast-cure formulas for fast-track projects
Impact and abrasion resistant
Extensive color and sheen options available
Smooth, orange-peel or non-slip finishes
Low odor, low VOC and solvent-free options
To get free samples or reach out to your local Tnemec representative, fill out this form:
INDUSTRIAL FLOORING SYSTEMS BUILT TO WITHSTAND REPEATED ABUSE
Harsh industrial environments can punish unprotected concrete. StrataShield resinous flooring systems offer the necessary protection against physical and chemical abuse to extend flooring life-cycles.
StrataShield flooring systems are formulated to withstand the strains ofpotential thermal shock caused by hot liquid spills or high temperature washdowns, while guarding against physical abuse such as impact and abrasion from heavy equipment or machinery, including pallet jacks and forklift traffic.

DOWNLOAD FLIER
SEAMLESS DECORATIVE FLOORING SYSTEMS FOR ADDED PROTECTION
Common floor covering options such as vinyl, tile or VCT, begin to show signs of delaminating and cracking over time, especially under heavy traffic and stress conditions. That's where Deco-Tread, Deco-Trowel and Deco-Fleck come in.
StrataShield decorative colored quartz and flake systems create a monolithic and seamless transition from wall to wall. With these floor topping systems, there are no unsightly grout lines, seams, or joints – places that allow liquid, dirt and contaminants to penetrate the surface and cause damage.


DOWNLOAD FLIER
FIBER-REINFORCED, WASHABLE WALL SYSTEMS
Stranlok monolithic wall systems provide entire rooms – labs, operating rooms, bathrooms and hallways – with high-performance protection while helping to keep sanitary environments spotless and sterile. Stranlok wall systems come in two durable options. One utilizes a spray-applied, high-build epoxy coating containing pre-mixed reinforcing fibers that interlock when sprayed to enhance structural film integrity and durability. The other system, Stranlok ML (mat layup) features a fiberglass-reinforced mat embedded in a layer of tough epoxy, resulting in similar protective properties, but with a smoother finish.
DOWNLOAD FLIER
Specialty Coatings in the StrataShield Line
When your project calls for certain qualifications, or you encounter issues during the job, your Tnemec representative can help you find the right coating solutions. Here are a few high-performance, specialty StrataShield floor coatings:
Featured Projects: STRATASHIELD
From manufacturing facilities to universities, StrataShield coatings are designed to protect and beautify floors and walls. Here are a few examples of where these coatings have been successfully used.
How to Purchase
Ready to Order Tnemec?
We're ready to help. Click below to learn more about our purchasing process.
Reach Out to Tnemec
Get the Information You Need
Contact us now and request the exact information you're looking for. We look forward to getting you an answer ASAP.
E-News
Coating News Direct to Your Inbox
Stay informed about industry news and innovative coating products via email.