Aerolon: Thermal Insulating Coatings
Coatings Designed to Limit Condensation and Thermal Bridging, Combat CUI and Provide Personnel Protection
The marriage of Tnemec's time-tested coatings technology and the world's best insulating solid, aerogel, has produced an advanced coatings system featuring Aerolon – a fluid-applied, thermal insulating coating. Aerolon offers protection that combats deficiencies found with conventional insulation and it can be applied in areas where these traditional installations are problematic.
Part of a complete coatings system – that also includes specialty primers and topcoats – Series 971 Aerolon Acrylic exhibits superior adhesion and protects infrastructure in several ways. Ideal for coating pipes, valves, tanks, and structural steel, its thermal properties post more efficient R- and K-Values than other thermal insulating coatings and similar values to conventional materials such as polyurethane foam and mineral wool.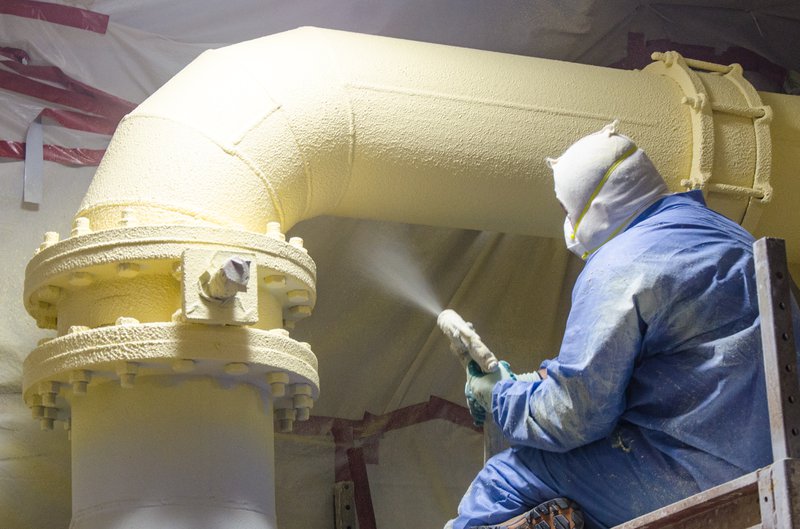 In side-by-side comparisons, Aerolon's protective characteristics represent a more effective solution than virtually all other available options. And when applied in industrial facilities, manufacturing plants, water treatment plants, on architectural steel or storage tanks, it provides a long list of additional benefits including ultra-low heat transfer, resistance to corrosion under insulation (CUI), worksite safety and protection, thermal break and condensation control, while offering higher build and faster application.

Aerolon for Architectural Applications
Aerolon provides thermal stability and controls condensation on steel and concrete building components, such as relieving angles, lintels, cantilevered beams, canopies and balconies. Aerolon can be applied in-shop or onsite, giving specifiers and applicators a more flexible and effective option to combat thermal bridging. Get information and request a sample by clicking below.
Request a Free Sample
Aerolon for Water & Waste Facilities
Aerolon gives owners and engineers the ability to control condensation, reduce heat/cold transfer and provide a personnel protection barrier, helping guard pipes, valves, tanks and more from the deteriorative effects of corrosion.To request more information and a free sample of this innovative product, contact click below.
Request a Free Sample
Aerolon: Thermal Insulation Coating
These next-level thermal insulation products provide protection against condensation, CUI and thermal bridging. Aerolon's multiple benefits rise to a level of performance that offers viable solutions – delivering innovation in every coat.
News + Press
Innovation Updates from Tnemec
See the latest news from Tnemec, from one-of-a-kind projects to new product releases.
Condensation Control
Condensation Problems? No Sweat.
Aerolon gives owners and engineers the ability to control condensation on pipes, valves and water tank interiors.
Sustainable Building
Need Coatings for LEED Projects?
Tnemec offers a long list of low VOC coatings built to protect sustainable structures.